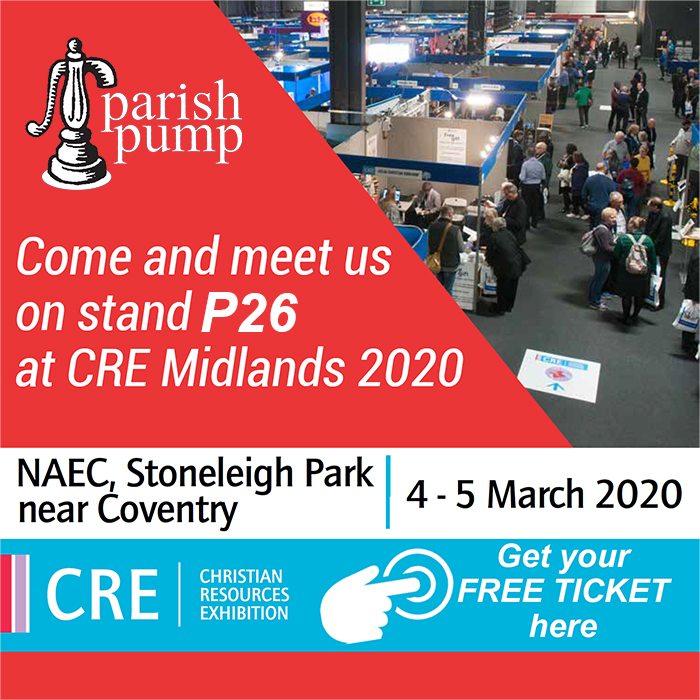 Two things we want to share with you this month:   
CRE Midlands and Easter Eggs!
We are going to exhibit at CRE Midlands in March and would love to meet you. CRE Midlands will be held at Stoneleigh Park near Coventry on 4th and 5th March. Why not come along and bring us samples of your church magazine?
We can get you as many FREE tickets as you like, so please bring some folk from your church along.
To get your FREE tickets, just go to www.creonline.co.uk/tickets and enter our unique discount code  PPUMP. Or please just click on the image here.
March is an excellent time to do a 'Spring houseclean' of your church and its work.  CRE Midlands offers you the unique opportunity to 'go shopping' for your church, and to discover so many good things that can enrich your local church's ministry.  Come and explore!  
PARISH PUMP PRIZE DRAW FOR EASTER EGGS
The Real Easter Egg celebrates a significant birthday this year, and so this month we are offering a FREE PRIZE DRAW for some Real Easter Eggs. 
It is easy to enter:
All you need to do is to go to  https://meaningfulchocolate.co.uk/   and then send an email to prizedraw@parishpump.co.uk and give us answers to these three questions:  
What year did David Marshall first get the idea to launch Real Easter Eggs?
What year were Real Easter Eggs launched?
How many Real Easter Eggs have so far sold?
Closing date for entries is 20th February. We will inform the winner on the 21st February.
Meanwhile you have your March magazine to compile! With all the good things in Parish Pump this month, we are sure that you will be able to do it in good time.
Grace and peace to you this at Lent approaches
Anne Coomes and the Parish Pump Team